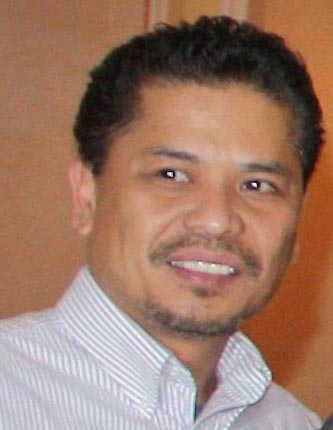 Brief Bio:
A Veteran of the United States Army, Dr. Franco "Frank" Espeleta Santos is a civilian employee of the U.S. Army where he is the principal advisor to the commander of a recruiting battalion on matters relating to education and serve as liaison between the U.S. Army recruiting battalion and colleges and universities in the states of Illinois, North Dakota, South Dakota, Minnesota, Wisconsin, Michigan, Ohio, Indiana, and Kentucky. Prior to his current position with the U.S. Army, Dr. Santos was the Training Specialist for the Veterans Affairs Northwest Mental Illness Research, Education and Clinical Center in Portland, Oregon.  Dr. Santos also had been an adjunct professor of psychology and undergraduate advisor at Mount Saint Mary's University (formerly Mount Saint Mary's College) in West Los Angeles and had taught undergraduate psychology and sociology courses at DeVry University in Sherman Oaks, California. (Read what students say.)  Dr.  Santos received his Bachelor of Arts Degree in Psychology from California State University, Northridge (CSUN), his Master of Arts degree in Psychology with emphasis in Marriage and Family Therapy (MFT) from Phillips Graduate Institute in Encino, California, and his Doctor of Education with emphasis in Educational Leadership and Policy Studies from California State University, Northridge (CSUN).
In Class:
Courses that Franco has taught include:
Abnormal Psychology:  the course explores mental health concepts, principles of psychopathology, and related treatment techniques; it surveys the various forms of abnormal behavior, covering their features, potential causes, and most effective treatments.
Alcohol and Substance Abuse:  analysis of the historical, social, cultural, psychological, and behavioral factors associated with patterns of psychoactive substance use in the United States. The course examines the effects of substance use on human cognition, emotion, and behavior, examines models of abuse/addiction, and explores the application of both traditional and innovative models of prevention and treatment.
Brain and Behavior: critical survey of the structure and function of the nervous system. Topics include the neural control of sensory systems, hormonal systems, motor systems, learning, memory, emotions, and sleep. Particular emphasis is placed on application of the material to the real world (e.g., teaching and learning, mental health).
Cognitive Psychology:  explore topics that include learning and memory processes, information-processing, selective attention, perception, memory storage and retrieval, representation of knowledge, language comprehension and production, thought, and decision making.
Critical Thinking and Problem-Solving: focuses on identifying and articulating skills needed for academic and professional success. Coursework provides instruction and practice in critical thinking and problem-solving through analysis of critical reading and reasoning, as well as through examination of problem-solving methodologies.
Culture and Society: explores the role of culture in social organizations. Social institutions, and the issues of race and gender within social structures, are analyzed in the context of multicultural societies and increasing global interaction. Basic sociological principles and research findings are used to support analysis of cultural and social issues.
Introduction to Psychology: the course provides a foundation for understanding, predicting and directing behavior. Organized within a framework encompassing foundations, general topics and applications, the course provides an understanding of how psychological principles and concepts relate to professional and personal life. Topics include learning, attitude formation, personality, social influence, dynamics of communication, conflict resolution, motivation, leadership, abnormal behavior, and group roles and processes.
Learning and Memory:  explores the major forms of learning and memory processes common to human and non-human animals. The course focuses on the most basic learning processes, particularly classical conditioning, operant conditioning, instrumental conditioning and observational learning.  It examines the essential features of memory processes as explained by information processing models. Particular attention is paid to applications of learning and memory theories in solving practical problems in normal and clinical situations.
Life/Human Development:  from conception to death, the course examines major theories of psychological development, interactions between heredity and environment, and the physical, cognitive, and social domains of development in childhood, adolescence, early to late adulthood.
Military Psychology:  the course explores the history, structure, culture of the American military as well as the stressors associated with military service today and the role they play in the acquisition and maintenance of psychological disorders prevalent among service members including posttraumatic stress disorder, substance abuse, suicide, relational issues including domestic violence, and problems with reintegration to civilian life.
Motivation and Leadership: the course focuses on human motivation and leadership skills required to effectively manage groups and individuals. Topics include basic motivation principles, leadership styles, workplace stress and conflict, and the dynamics of group development.
Personality and Adjustment: examines the major theories of personality (e.g., Psychoanalytic, Behavioral, Humanistic, Cognitive), along with the development, structure, and dynamics of personality. Survey of these theories highlight the origin of normal and pathological personality development.
Personality Theory:  comprehensive study of the major theories of personality (e.g., Psychoanalytic, Behavioral, Humanistic, Cognitive, Social Learning, etc.). The course addresses development, structure and dynamics of personality, utilizing contemporary research. Survey of theories of personality highlights the origin of normal and pathological personality development.
Clinical Experience:
Prior to teaching, Franco E. Santos practiced as a psychotherapist (Marriage and Family Therapist Intern) with and under the supervision of Jo Anne Kaplan, MFT, Ph.D. in Tarzana, California and with the Pacific Asian Counseling Services in Van Nuys, California.  In that capacity, Franco provided psychological counseling to individuals, families and groups.  Franco helped clients understand the nature of their maladaptive behavior, the maladaptive behavior's impact on their functioning and relationships, and explored and helped clients develop alternative behavioral patterns.  Franco also conducted parenting skills workshops at middle schools and high schools designed to help parents strengthen parent-teen relationships.
In Practice – Theoretical Orientation and Approach:
Franco E. Santos, M.A., Ed.D believes in the collaborative process in therapy.  In Franco Santos' view, therapy is a partnership, a journey undertaken by the client and Franco that is based upon mutual respect and curiosity.
In the initial stages of psychotherapy, Franco Santos utilizes Bowen Family Systems theory to guide the client in the exploration of the client's significant family history and to help both client and therapist understand the contributing factors that has led to the client's presenting problem and the client's maladaptive automatic coping mechanism.  As psychotherapy progresses, these automatic coping mechanisms are challenged.  Among other theories, Franco E. Santos utilizes Cognitive Behavior Therapy to examine the benefits and consequences of the client's current response mechanisms to current functioning as well as explore and challenge underlying thoughts and feelings that contribute to the continuation of maladaptive behavior.  In therapy, alternatives are examined, and out-of-session activities are discussed, assigned and encouraged to help with real world practice of in-session insights.
Personal Philosophy, Existentialism:
As a way of life, Existentialism places great importance on the here and now. It requires the acknowledgment that life is passing and to attain happiness, one must stop and appreciate the beauty of one's surroundings, to choose one's company, to consciously partake in everything that life has to offer rather than allow the self to be lulled into a false sense of security that life is everlasting. By taking an active role in life along with all its little nuances and decision making, the person ceases to become a victim of his environment but a co-author of his new, meaningful life.
An Existential life does not only require the person to appreciate his or her surrounding, existentialism also dictates an honest interaction with others. Simply put, if you knew that this moment is the last moment you have with your loved one, would you not hug a little tighter, cry a little harder, laugh a little louder? To practice the aforesaid in your interaction with friends and loved ones, which Franco calls the Long Goodbye, has the effect of making one's relationships closer and more meaningful — with each hello an opportunity to rejoice, with each parting an opportunity to say how much one appreciates the other.
Relevant Life Experience/History:
Franco Espeleta Santos, M.A., Ed.D was born in the Philippines and grew up in Los Angeles, California.

Upon graduating from high school, Franco E. Santos joined the United States Army as a Combat Engineer. Franco attended basic training at Fort Leonard Wood, Missouri. Upon completion of Basic Training and Advance Infantry Training, Franco was stationed with the 19th Engineer Battalion at Fort Knox, Kentucky and, 1.5 years later, deployed to join the 2nd Infantry Division in South Korea. After three years of active duty service, Franco returned to Southern California, but remained in the Reserves branch of the United States Army for another three years.
While in the United States Army Reserves, Franco began his college education at a local community college where he served as student body vice-president and, as a member of the debate team, won 3rd place in a national college debate competition. Thereafter, Franco transferred to California State University Northridge (CSUN) where Franco received his Bachelor of Arts Degree in Psychology. Franco received his Master of Arts degree in Psychology with emphasis in Marriage and Family Therapy (MFT) from Phillips Graduate Institute in Encino, California.  He received his Doctor of Education with emphasis in Educational Leadership and Policy Studies from California State University, Northridge (CSUN).